Exterior Lighting Process
Commercial and Facades Considerations
We seek to understand the area, architecture in place and the environment to harmonise the lighting into the surrounding area and apply surface finishes to structural elements in the area. Show the effect of the lighting, ideally not the light fitting itself. We use different light intensities and angles to highlight specific area's and meet target lighting levels for area illumination.
Car parks and facades generally need to meet legislative lighting performance standards, as well as consider limitations to the lighting of the surround area's.
This frequently requires co-ordination with security services such as CCTV camera's and alarm systems, in order that there is sufficient quality of light for camera's to provide clear images, and also activate specific lighting circuits in an alarm trip. Therefore the types, energy usage and the need for additional lighting controls Legislation may already exist and is a requirement for certain areas, this needs to be evidenced within the design, if not approached correctly. Lighting guidance is used as a tool for the measurement of safety.
Experience
We will use our extensive experience with research to identify and use the most appropriate light source and lighting to achieve the best performance and cost effective solution which is only available from independent design engineers, as the performance from many manufacturers is considered.
Visualisation
We frequently create a 3D model of the space to show what the final effect may be and evidence the performance that we may expect once the design has been put forward in AutoCAD Architecture format and is installed.
Residential
We seek to understand the space, it's use and architectural features. Use harmony in the lighting to bring out furniture and surface finishes. Show the effect of the lighting, not the light fitting itself. We use different light intensities and angles to create a sense of well being and warmth Also, make it easy to use.
How do you Measure Lighting?
Reputable manufacturers measure performance in the laboratory under specific test conditions.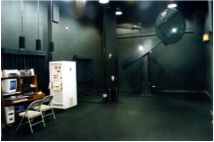 Typical Gonio photometric laboratory conditions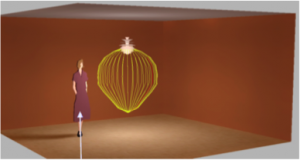 A 3D volume is created representing the space requiring lighting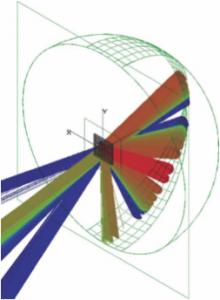 Light rays and angles are measured which forms a file of data
Software represents the light rays file in 3D within the volume that is the area to be lit. The model can be interrogated for performance to all areas of the model.
Residential and Commercial Lighting
As lighting is based on a volume of Space, we use the architectural drawings provided to created a Model, and insert surface detail. The File data is then applied in software to the site.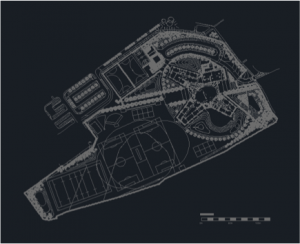 Drawing Provided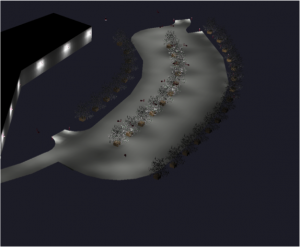 Model of the space, overlaid and the results including the illuminated effect
We can examine the extents of the lighting, performance data for the site, energy, colour properties, Direction, intensity and orientation to find the optimum fit for the application. We can view the computer model image realistically, or intensity by colour representation, and export the results to AutoCAD.